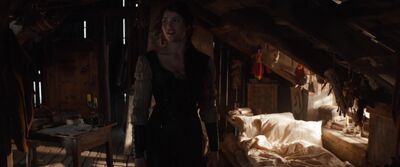 Ben's House is a location seen in Hansel & Gretel: Witch Hunters.
Appearance
From what we see in the film, Ben's room has many items of witch hunting and newspaper articles of Hansel & Gretel's work.And other random things.
Hansel & Gretel: Witch Hunters
Ben takes Gretel to his home. Gretel than awakes the next day to find that Hansel is missing. Ben then brings Gretel some porridge. Gretel sees a picture of her that was drawn by Ben. Gretel gets up starts reading Ben's collection of newspaper. She recognizes her mother in picture.
Gallery