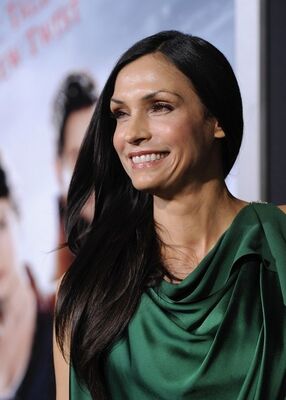 Famke Janssen is a actress. She portrayed Muriel in the film.
Biography
Born on November 5, 1964 in Amsterdam, Netherlands, and has two other siblings. She studied economics for a year at the University of Amsterdam, which she has called "the stupidest idea I ever had." Moving to America in 1984, Famke modeled for Chanel in New York City. Later, taking a break from modeling, she majored in writing and literature at Columbia University and studied acting with Harold Guskin. She then went to Los Angeles, California, where she continued to study acting under Roy London.
Her first film was the crime drama Fathers & Sons (1992), where she played the love interest of Jeff Goldblum. Later, she became James Bond's enemy in GoldenEye (1995) opposite Pierce Brosnan. Famke received strong critical acclaim for her electrifying performance as the femme fatale Xenia Onatopp. Her career has bloomed since then with her starring in such films as House on Haunted Hill (1999), a reoccurring role on FX's "Nip/Tuck" (2003) and the blockbuster trilogy X-Men (2000), X2 (2003), and X-Men: The Last Stand (2006).
Selected Filmography
House on Haunted Hill (1999)
X-Men (2000)
X2 (2003)
X-Men: The Last Stand (2006)
Taken (2008)
100 Feet (2008)
Taken 2 (2012)
The Wolverine (2013)
Trivia
Has a Boston Terrier named Licorice.
Ranked #69 in Stuff magazine's "102 Sexiest Women in the World" [2002].
Her sister was visiting Southeast Asia during the Tsunami on December 26, 2004, and had to flee the water to save her life.
Sources
Photo Gallery