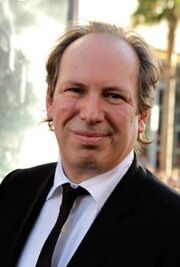 Hans Zimmer (born 12 September 1957) is a German film composer and music producer.
Early Life
Zimmer was born in Frankfurt am Main, Germany. As a young child, he lived in Königstein-Falkenstein, where he played the piano at home, but had piano lessons only briefly as he disliked the discipline of formal lessons. He moved to London as a teenager, where he attended Hurtwood House school.[1]In an interview with Mashable in February 2013, he said of his parents "My mother was very musical, basically a musician, and my father was an engineer and an inventor. So, I grew up modifying the piano, shall we say, which made my mother gasp in horror, and my father would think it was fantastic when I would attach chainsaws and stuff like that to the piano because he thought it was an evolution in technology." In an interview with the German television station ZDF in 2006, he commented: "My father died when I was just a child, and I escaped somehow into the music and music has been my best friend."
Featured Discography and Awards
Academy Awards
Golden Globe Awards
1995: The Lion King
2001: Gladiator
Grammy Awards
1995: The Lion King (Best Instrumental Arrangement With Accompanying Vocals)
1995: The Lion King (Best Musical Album For Children)
1996: Crimson Tide
2009: The Dark Knight (shared with James Newton Howard)
Satellite Award
1998: The Thin Red Line
2001: Gladiator
2011: Inception
Saturn Awards
2009: The Dark Knight (shared with James Newton Howard)
2011: Inception
Classical BRIT Awards
2008: The Dark Knight (shared with James Newton Howard)
2013: Best Composer of the Year (for The Dark Knight Rises and Man Of Steel)
2013: Outstanding Contribution to Music in association with Raymond Weil
WAFCA Awards
BFCA Awards
World Soundtrack Awards
Trivia
Completely self-taught, he learned everything he knows through collaboration and experimenting.
Last name means 'room' in German.
His music is heavily used in trailers.
Frequently works with DreamWorks Animation.
Sources
Photo Gallery