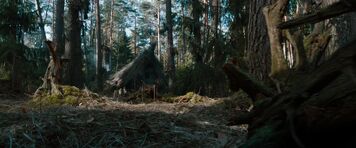 The Tall Witch's House is a location seen in the film.
History
Not much is known about it's history.
Appearance
The exterior is made out of wood and the roof is made of straw. The interior is made out of dark brown wood.
Hansel & Gretel: Witch Hunters
Gretel enters and the Tall Witch manage to escaped in to the forest. It is likely that the house is abandoned.