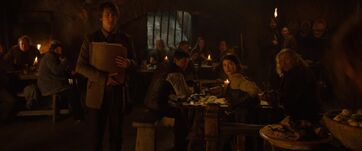 Tavern
is a location seen in the
film
.
Appearance
The tavern is an establishment for the sale of beer and other drinks to be consumed on the premises. It's always busy and is a hotspot for activities.
Hansel & Gretel: Witch Hunters
Hansel and Gretel are seen in the tavern after speaking to the mayor. Hansel is seen speaking to a woman. He is speaking to her about his past witch experiences but she shows no interest and leaves him. He then goes back to his table with Gretel and Jackson. They then speak about past abductions and other witch-related stuff. Ben then arrives and meets the witch hunting duo. Later, a tracker is seen entering the pub. He then tells the villagers that a witch killed the other trackers and that she has a message for them, he then explodes.
Gallery