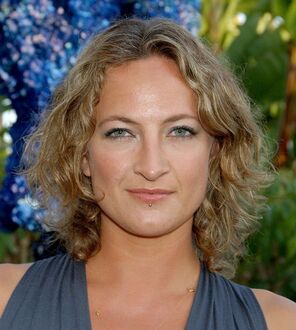 Zoë Bell portrays Tall Witch in Hansel & Gretel: Witch Hunters.
Biography
New Zealand native Zoe Bell has a background in gymnastics and martial arts. She began working as a stunt woman when she doubled Lucy Lawless on the cult favorite TV series "Xena: Warrior Princess" (1995). After the cancellation of the show, Bell's next gig was as stunt double for Uma Thurman in Quentin Tarantino's Kill Bill: Vol. 1 (2003) and Kill Bill: Vol. 2 (2004). Bell was injured in the final days of filming, requiring surgery, but she has since recovered and returned to work. Bell appeared along with legendary stunt woman Jeannie Epper in Amanda Micheli's acclaimed documentary Double Dare (2004), which offers a glimpse at the lives and careers of both women, as well as the friendship they share.
Selected Filmography
Death Proof (2007)
Bitch Slap (2008)
Hansel & Gretel: Witch Hunters (2013)
Oblivion (2013)
Trivia
Was given "The Bells" sign from Jeannie Bell's (assumed name of Vernita Green, played by Vivica A. Fox) yard by Uma Thurman after production wrapped on the Kill Bill films, which she later gave to her parents.
Has a brother, Jake.
At the 2005 MTV Movie Awards, Quentin Tarantino revealed that Zoe had broken bones in her back and she didn't realize it until a month later.
Attended Auckland Girls' Grammar School and Selwyn College.
Was member of the Jury for the official fantastic film selection at the 40th Sitges International Film Festival, on October 2007.
Worked with actress and friend Adrienne Wilkinson on both "Xena: Warrior Princess" (1995) and Reflections (2008/III).
Sources
Photo Gallery